Team players.
Made at Welcome Break
Are you ready to show us you have the desire to join a great team - and the determination to thrive in it? Select which of the three kinds of role below you're interested in. Then let's see what we make of each other.
What makes a Team Member
Our Team Members are at the heart of what we do. They are the people who provide a welcome break to all our customers through all our brands.

We offer customer-facing and behind-the-scenes roles, and both require daily energy and enthusiasm. Communication skills are vital too as it takes great teamwork to provide the best customer service, 24 hours a day.

As a Team Member you'll get professional training and, if you show you want it, the chance to develop your skills with more of our brands.

Find out about our learning and development programmes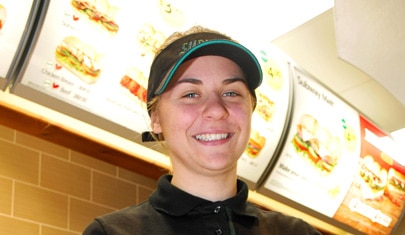 'The role has given me the opportunity to grow my skills, I love working with a team of great people.' Dominik, Team Member
Fleet
Lead our teams at Welcome Break
Few companies can match Welcome Break for the range of retail, catering and other management opportunities we offer. And how many also provide such fast track career progression?

Taking a management role with Welcome Break could see you rapidly progressing to Site Manager / Site Operations Manager and beyond. It's down to your drive and we'll back your ambition all the way.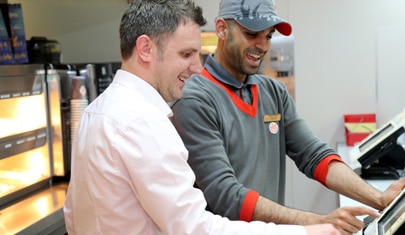 'With so many great brands in so many different locations, great management opportunities are practically limitless.' David,
Site Operations Manager
Michaelwood
Team Manager
What makes a Team Manager Our Team Managers are 'people people' who know how to get the best from others. Working with your Unit Business Manager, you'll lead, support and motivate your teams to deliver superb customer service and excellent sales results.

Team Managers need high level communication and influencing skills, as well as proven experience of supervising and inspiring teams.

The Team Manager role at Welcome Break covers a number of specific job titles, including Assistant Restaurant Manager and Assistant Store Manager.
'Welcome Break is a team-focused business that rapidly develops your people management skills.' Linda,
Team Manager
Membury
Unit Business Manager
What makes a Unit Business Manager A Welcome Break Business Unit could be a food outlet, a retail outlet, a forecourt or a hotel. And each can easily generate £2 million in annual sales.

To manage an operation of this scale requires more than excellent business management and finance skills. You'll be leading a team of around 30 to 50 people who'll look to you for direction and whose own career progression will be linked to your commercial success.

The Unit Business Manager role at Welcome Break covers a number of specific job titles, including Restaurant General Manager and Store Manager.
'It's a challenging job but a great job because we're all working towards a shared goal.' Alessandro,
Unit Business Manager
Hartshead Moor
Site Manager / Site Operations Manager
What makes a Site Manager / Site Operations Manager Our locations run smoothly all day, all year round. Site Managers make this happen at smaller locations and Site Operations Managers at larger ones.

You'll need to show you've managed fast paced retail or catering hospitality business before where you've motivated teams to meet challenging sales and service targets.

These roles are for real achievers who want to seize the opportunity to gain retail, food and management experience across our family of world class brands. And within a company committed to its people and their development.
'With such an eclectic mix of business units within each site you learn a lot, fast - and that really ups your skill set.' Sheraz,
Site Operations Manager
Birchanger Green
Joining our Support Centre
Our Support Centre at Newport Pagnell is the administrative and support hub for our many sites. Over 100 people work here across our Commercial and Brands Team, People Team, Operations, IT, Business Development and Finance. Some roles are office-based, others involve regular travel.

All roles come with the training and development you'd expect to help you reach the top of our business.
'This is a big business with big brands... and even bigger plans. I intend to be part of them.' Andrew,
Training Manager
Welcome Break Support Centre