Team players.
Made at Welcome Break
Are you ready to show us you have the desire to join a great team - and the determination to thrive in it? Select which of the three kinds of role below you're interested in. Then let's see what we make of each other.
What makes a Team Member
Our Team Members are at the heart of what we do, the face of Welcome Break. As a Team Member you're the person who welcomes our road-weary customers with a warm friendly smile – and makes them feel human again. Team Members play a vital role, keeping our sites running like clockwork. To succeed, you'll need energy, passion and a can-do approach.

Find out about our learning and development programmes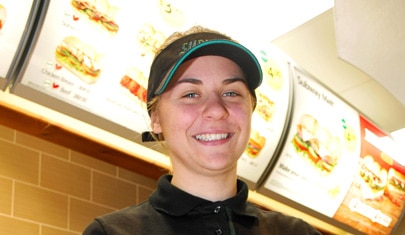 'The role has given me the opportunity to grow my skills, I love working with a team of great people.' Dominik, Team Member
Fleet
Lead our teams at Welcome Break
Few companies can match Welcome Break for the range of retail, catering and other management opportunities we offer. And how many also provide such fast track career progression?

Taking a management role with Welcome Break could see you rapidly progressing to Site Manager / Site Operations Manager and beyond. It's down to your drive and we'll back your ambition all the way.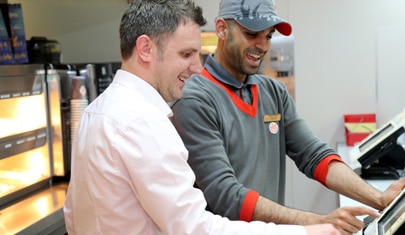 'With so many great brands in so many different locations, great management opportunities are practically limitless.' David,
Site Operations Manager
Michaelwood
Service Leader
What makes a Service Leader Service Leaders keep our units running smoothly day in, day out – from motivating the team to keeping an eye on stock. As part of our management team, you'll make sure every customer gets the Famous Five treatment and leaves with a smile.

You'll be great with all kinds of people – from weary travellers to new Team Members. You'll be practical, ready to roll your sleeves up and muck in – while keeping an eye on the bigger picture. Above all, you'll be able to keep a cool a head when things get hectic.

As Service Leader, you'll be responsible for ensuring the whole team pulls together to deliver excellent customer service and operational excellence. The leadership skills you develop in the role could help you progress in your career towards Assistant Manager.
'I'm proud to be able to inspire the team to be fanatical about delivering quality service and standards.' Camille,
Service Leader
Telford
Assistant Manager
What makes a Assistant Manager Got a head for business? As Assistant Manager, you'll support the Unit Business Manager in all aspects of running the unit, from recruitment and training to managing stock and finances. It's all about optimising performance and a great stepping stone to a more senior leadership role.

You'll be a true multi-tasker, able to juggle a wide range of tasks. Leading by example, you'll inspire Team Members, mentor your Service Leaders and deliver profitable sales growth. It's a demanding role for highly motivated, business-minded individuals.

Assistant Manager is a very responsible position. As well as building your leadership skills, you'll gain vital experience of running a profitable business unit, following on from the role of Assistant Manager you could then step up to Unit Business Manager (UBM), in charge of your own unit.
'Welcome Break is a team-focused business that rapidly develops your people management skills.' Linda,
Assistant Manager
Membury
Unit Business Manager
What makes a Unit Business Manager A Welcome Break Business Unit could be a food outlet, a retail outlet, a forecourt or a hotel. And each can easily generate £2 million in annual sales.

To manage an operation of this scale requires more than excellent business management and finance skills. You'll be leading a team of around 30 to 50 people who'll look to you for direction and whose own career progression will be linked to your commercial success.

The Unit Business Manager role at Welcome Break covers a number of specific job titles, including Restaurant General Manager and Store Manager.
'It's a challenging job but a great job because we're all working towards a shared goal.' Alessandro,
Unit Business Manager
Hartshead Moor
Site Manager / Site Operations Manager
What makes a Site Manager / Site Operations Manager Our locations run smoothly all day, all year round. Site Managers make this happen at smaller locations and Site Operations Managers at larger ones.

You'll need to show you've managed fast paced retail or catering hospitality business before where you've motivated teams to meet challenging sales and service targets.

These roles are for real achievers who want to seize the opportunity to gain retail, food and management experience across our family of world class brands. And within a company committed to its people and their development.
'With such an eclectic mix of business units within each site you learn a lot, fast - and that really ups your skill set.' Sheraz,
Site Operations Manager
Birchanger Green
Site Support Roles
Business Support, Finance, Customer Services, Maintenance From finance to customer service to maintenance, our site support teams help make sure every aspect of a Welcome Break unit or site runs like clockwork – so that customers can be sure of a great experience. As a member of our Site Support team, you'll get structured training to help you be the best you can be in your role – whether that's in Maintenance, Finance or Customer Service. And it could open a wide range of career options across our business.
'There's a real pride in what you do, helping support the site' Lisa,
Site Finance Manager
Keele
Joining our Support Centre
Great sites need great support. And that comes from our national Support Centre at Vantage Court in Newport Pagnell. From Finance, Comercial to Marketing, from IT to People, these vital support functions work together, as one team, helping drive the success of the Welcome Break business. Key skill requirements will vary according to your role, but whatever your function, the ability to provide positive, practical support to site teams is essential. Making things simple for our sites helps them deliver great service and superb business performance.
'This is a big business with big brands... and even bigger plans. I intend to be part of them.' Andrew,
Training Manager
Welcome Break Support Centre